CAST VS

BILLET

Is the Billet Compressor Wheel vs the Cast Compressor Wheel Worth It?
More Efficiency
Billet construction allows aluminum compressor fins to be much thinner than a cast steel alloy wheel, less blade thickness make a greater efficiency range, the more efficient a wheel is the lower the intake temperature.
More Air Flow
Machined by 5 axis impeller CNC the blades can be designed much more complicated to increase blade surface area, which can flow more air into the engine. Smaller nose and hub allow for a greater blade diameter, High and long blade increase air intake & performance.
More Durability
By using forged billet aluminum to avoid porosity issues, won't have air bubbles to creat weak spots. it makes billet compressor wheel much more durability than cast compressor wheel.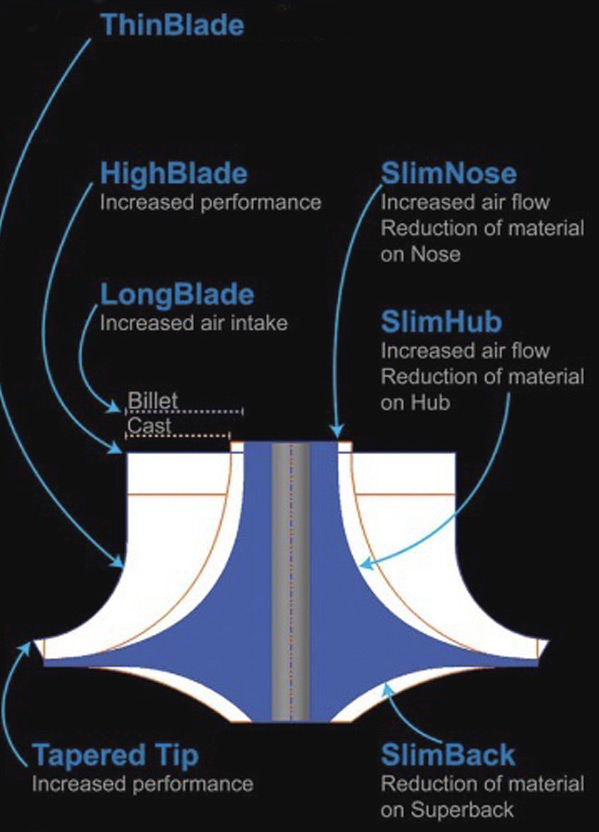 why ceramic coat your turbo?
for protection
A range of highly efficient thermal barrier coatings specifically designed to aid exhaust system thermal management – reducing surface, radiant and enginecompartment temperatures at the design stage or even during running production.
for aesthetics
From under bonnet beautification through to exhaust finishers, our full range of high temperature coatings enhance the look and quality of an engine bay and exhaust system with a variety of colour and textural finishes. These coatings are suitable for application onto a range of metals, plastics and composite materials.
for performance

With modern, tightly packaged engine compartments our range of coatings and heat shields can increase component reliability, improve emissions performance through trapping heat in catalysts and DPF's and offer a crisper throttle response by the coating of turbo chargers.
for a rapid solution

ZircoFlex© is a revolutionary range of flexible or rigid ceramic heat shields offering superb thermal barrier performance at minimal weight and thickness. This unique range provides manufacturers the flexibility to manage heat in any automotive application.
Ceramic Coating minimises heat transfer from parts such as the exhaust manifold and the turbocharger. This reduces under bonnet temperatures and protects heat sensitive components.
By reducing under bonnet temperatures, Ceramic Coating also reduces the temperature of air entering the engine via the inlet manifold, giving a denser charge and more power!